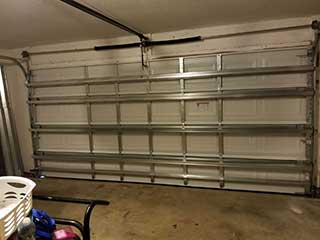 If your garage door is unbalanced, or if it slams shut and can't be opened no matter what you do, odds are something is wrong with its springs. These components are in charge of counterbalancing the door's weight and helping it move, so, as you can tell, their condition must be excellent at all times. Dealing with them can be very complex, not to mention dangerous, so if you need to get them adjusted or replaced give our team a call.
Two Different Types
Torsion springs are the more common of the two different types that are used today. The reason for that is that they are the newer option, and are far more durable and flexible. They are strong enough that often only a single unit is required. A torsion spring works by twisting and utilizing torque to rotate cable drums that spool the lift cables and effectively pull the door up. Extension springs are the older type, and are also more dangerous. That's because they stretch and contract in order to support the door's weight, which makes them go through more wear and tear. Safety cables are often interlaced with them in order to keep them in place in case they break.
Regular Maintenance Helps
Spring maintenance is incredibly important, as it will help preserve the condition of these important components and extend their longevity. Our team can lubricate them for you, perform any required adjustment and make sure their coils aren't getting too deformed.
Don't Do It By Yourself
Spring replacement, whether it involves a broken unit or simply one that's worn, can be incredibly dangerous. The tremendous amount of tension these components are under can cause them to break if they're mishandled, which can get you seriously injured. That's why you need to contact our experts at Garage Door Repair Gresham whenever you need some professional help with your springs.
Want more? Let us take care of:
Torsion & Extension Spring Replacement
LiftMaster Garage Door Opener Repairs
Garage Door Cable & Track Repairs
Extension Spring Adjustment