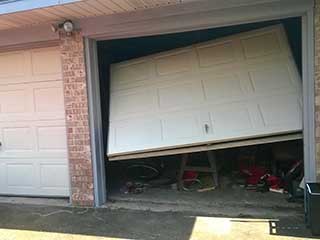 When you call our professional technicians to fix your door, you can rest assured that we'll achieve the best possible results. We offer a full list of services and can provide you with assistance no matter which part of your door is acting up.
A Variety Of Hardware Issues
There are a lot of parts of your garage door that can come to experience a malfunction at some point in time. The panels can break due to an accident or develop rust or rot over time, depending on the material they're made of. The tracks are another familiar troublemaker, as they can become misaligned, bent or rusty as well. The rollers that travel through them can also have some issues. They can wear out, and may even break, which could cause a situation where the door gets off track. Our team can fix or replace all of these components, and every other one that we haven't mentioned.
Troubleshooting The Opener
A door that keeps reversing or one that refuses to open even though its springs are ostensibly fine, could have some opener related problems. Determining which part of your electro-mechanical unit is actually at fault can be difficult, which is why you need to have our technicians do it. We'll check the safety sensors' alignment, as well as the condition of the motor gear, the drive system, and the main unit's logic board. Once we've located the problem at hand, we'll address it on the spot and make sure that the door is able to return to its proper working condition.
But Wait, There's More
Another key part of your system we can help you with are the cables and the springs. These components are probably under the highest amount of stress because they are the ones that actually support the weight of the door panels. Frayed cables and worn springs can be incredibly dangerous, as the door could collapse if they break unexpectedly, and they may even injure anyone who's standing nearby when that happens. In order to avoid getting hurt by these important yet dangerous components, you should have our technicians take care of the required spring or cable replacement.
Just Let Us Know
It can be hard to know exactly what's wrong with your garage door when it starts to malfunction. But don't worry. We don't expect you to be able to troubleshoot things by yourself. That's what our team at Garage Door Repair Gresham is here for. Give us a call and we'll take care of everything else.
Our team can also take care of:
Part Replacement & Lubrication
Bent Garage Door Track Repair
Galvanized Torsion Spring Replacement
Door Opener Troubleshooting Services