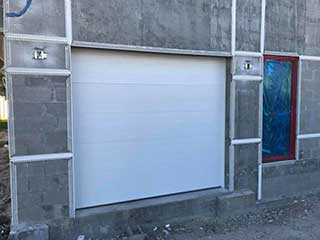 Don't Risk It
An improperly installed door can break within days of use. Misalignment on the tracks, rollers that aren't straight, or other incorrectly working parts can place a lot of stress and strain on the chains, springs, pulleys, and driver of your door. A cable rubbing against something it shouldn't be can cause quickly fraying spots that risk breaking. Lastly, if your motor is straining against sticking parts that should be moving freely, it can cause rapid burnout. If you've just purchased your garage door, the last thing you want to deal with is a repair right after your installation is complete. Let our professionals install it right the first time - you wouldn't want it to get broken before it's even broken in, right?
What to Look For
Who better to install your door than the same people you trust to repair your old one? Our technicians are trained to pay special attention to the details that make everything run smoothly. We check the alignment of your tracks and rollers as well as the alignment of your trolley, if your door uses one. Balancing the springs is a critical component to preventing issues in the future, and it takes an experienced hand to get it right. If you want your beautiful new door to remain in great working condition, call our technicians to provide you with a proper garage door installation that makes the most of it. We make sure that our customers are always satisfied, and we know our stuff inside and out.
Trusted Staff
Decades of experience in garage door installation lend the technicians at Garage Door Repair Gresham a leading edge over the competition. Our professional team offers fast and friendly service so that you can enjoy your new door for years. Contact us today to book an installation appointment.