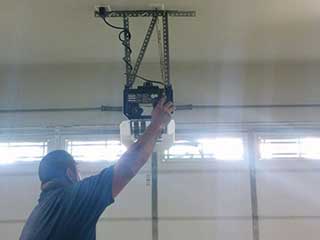 Imagine having to manually open and close your garage door every day. This wasted time will gradually accumulate to hours, then days, then weeks of your life spent raising and lowering the panels by hand. An electric garage door opener can save you a monumental amount of time, not to mention it will make your home a lot more secure. When something goes wrong with it, though, you'll find it incredibly inconvenient. That's when you need to reach out to our professional team.
Inner Unit Problems
The opener's main unit houses the motor and the circuit board, which are essentially both the brain and the brawn of the system. If the motor gear wears out, you may hear a droning sound but find that your opener is unable to move your door. If the circuit board gets fried, or some of its wires detach, it may seem as though your opener isn't getting any power, or it may seem like nothing's wrong, and yet you won't be able to open or close your door. Both of these cases require professional assistance, and both of them our experts can quickly and safely resolve. We'll replace the damaged part and make sure the unit is able to once again resume its safe and proper operation.
Safety Sensor Issues
Your opener "knows" not to close the door while there's someone or something under it because it uses a pair of safety sensors to detect whether or not there's an obstacle in the door's way. These photoelectric eyes are installed at both bottom ends of the opening, often attached to the vertical tracks. They send an invisible beam between them, and when that beam is interrupted, the opener recognizes the situation and reverses the door's movement. Misaligned sensors will fail to properly detect an obstacle, and may even cause the door to reverse for seemingly no reason. Seeing as sensor realignment is a delicate procedure, leaving it up to our team is the best thing you can do.
From Installation To Repairs
A malfunctioning opener isn't the only thing we can help you with. If you're looking to upgrade your old unit, we can help you find a new and more highly advanced model that will offer you some special benefits. We work with brands like LiftMaster, Craftsman, and Genie, and our experts will be more than happy to consult you on various aspects. If you want to know whether a belt or a chain drive system will be the preferred choice or how much horsepower you'll need to support your steel or wooden door, we can definitely help.
Whatever You Need
Opener replacement and repair is one of our specialties, so call if you need any type of professional assistance you already know what to do. Call Garage Door Repair Gresham today and schedule an appointment!
Couldn't find what you're looking for? We also offer:
Part Replacement & Repair
Opener Remote Clicker Replacement
Garage Door Torsion Spring Replacement